Pemilihan jenis flow meter yang didasarkan pada cara instalasi, mempunyai peranan penting guna menurunkan semua jenis biaya di atas. Karena itu sebelum menentukan jenis flow meter yang dibeli ada baiknya kita mempertimbangkan type dan model flow meter dari Jenis instalasinya.
Flowmeter Air untuk Ukuran Pipa besar


Dalam hal memilih jenis flow meter yang perlu diperhatikan adalah nilai optimal dan bukan maximal. Mengacu pada hasil produksi, maka tuntutan terhadap efisiensi, stabilitas kwalitas, cost down dan lainya lebih diutaman karena kompetisi yang ketat.
Flow Meter Transit Time Ultrasonic
Karena itu, ketika menentukan jenis flow meter, yang perlu dipertimbangkan adalah jenis flow meter yang mepunyai manfaat optimal dan bukan maximal. Maksudnya adalah, pilihlah flow meter yang memiliki akurasi sesuai dengan yang dibutuhkan dan jangan berlebihan. Gunakan jenis instalasi flow meter sebagai pertimbangan biaya maintenance kecil atau mendekati free maintenance.
Gunakan flow meter yang biaya dan waktu instalasinya semurah dan sependek mungkin kalo perlu tidak harus menghentikan proses prose produksi. Selanjutnya silahkan dilanjutkan dengan pertimbangan sesuai dengan desain dari engineering.
Pada Proses pengolahan air seperti yang dilakukan oleh PDAM , irigasi dan Proses Pengolahan Limbah banyak mengalami kendala saat harus berurusan dengan alat ukur debit air atau flow meter. Ada 3 Hal penting dlam memutuskan pemilihan jenis flow meter pada pada aplikasi seperti ini yaitu :
Harga Flow Meter
Biaya dan waktu Instalasi
Biaya dan waktu Maintenance termasuk kaliberasi


Harga Flow meter jenis inline flow meter dimana sistem instalasinya dengan cara memotong pipa dan memasang flange sebgai media konseksi flow meter kepipa sangat mahal. Karena semakin besar ukuran flow meter maka dari segi dimensi dan berat juga makin besar.
Mahalnya jenis flow meter ini dikarena dimensi, berat material yang besar juga biaya transportasi serta lainnya. Dari segi Instalasi membutuhkan waktu yang lama dan bisa dibayangkan untuk dimensi besar seperti DNN500 mungkin harga flange , biaya memotong pipa, waktu instalasi yang lama bisa jika dihitungkan kerupiah akan tinggi sekali.
Belaum lagi saat kalberasi, maintenance serta service atau jika ada persolan flow meter maka produksi akan berhenti atau jika kita menghendaki produksi tidak terganggu maka saat harus ada jalur by passsaat flow meter harus di lepas/dibongkasr.
Untuk menangani persolan ini bisa di gunakan jenis flow meter yang instalasinya ada 2 yaitu :
Flowmeter Insertion Electromagnetic
Insertion flow meter adalah jenis flowmeter electromagnetic yang instalasinya dilakukan dengan cara melubangi pipa untuk tempat masuk sensor kedalam pipa. Selanjutnya dipasang fitting agar bisa mendudukan sensor electromagnetic kedalam fitting yang diperkuat dengan mur, slotting atau pins key.
Prinsip kerja dari jenis flowmeter sama dengan flowmeter electromagnetic dengan menggunakan hukum farady, dimana jenis cairan akan dapat terdeteksi oleh sensor jika mempunyai conductivity diatas 20 micro siemens. Jenis Insertion sensor electromagnetic biasaya dibuat dari material brass atau stainless steel.


Model Insertion electromagnetic Flow Meter
Berikut Ini Jenis Insertion electromagnetic Dari Seametrics measurement


EX800 Fixed Depth Insertion Magmeter
Low-flow performance and accuracy superior to any mechanical flow sensor
No moving parts to wear out
Dedicated fittings for simplicity
Retainer clip automatically sets the correct depth
Meter extends only about 1/8 of pipe diameter, minimizing the potential for clogging with debris
Simple pulse train output can be used with any SeaMetrics signal processing module or sent directly to a PLC
Available for pipe sizes 1″ to 12″, in brass, 316 stainless, and PVC
Seametrics EX 800 Insertion electromagnetic


EX90-series battery-powered, insertion electromagnetic flowmeter
Direct replacement for propeller meters
Easy to install
Less pipe obstruction
No moving parts or bearings to replace
No routine maintenance
Pulse Output Standard
4-year battery life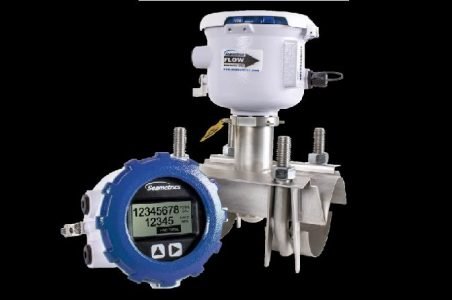 Insertion Electromagnetic Flow Meter
EX100/200 Adjustable Depth Insertion Magmeter
Depth adjustable sensors
EX110 fits any 1-1/2″ pipe fitting (standard saddle, for instance) and adjusts to pipe sizes 3-10″
EX210 adjusts to pipe sizes 10-48″
Meter extends only about 1/8 of pipe diameter, minimizing potential for clogging with debris
Accept Seametrics modules for rate and total indication, 4-20 mA conversion, data logging, and flow switching
Alternatively, signal can be sent directly to a PLC or other control
Available in brass or 316 stainless steel
Immersibility and reverse flow output available


EX150/250 Hot-Tap Adjustable Depth Insertion Magmeter
Isolation valve allows installation and removal under pressure
Useful in large water utility pipe and other applications where shutdown is not an option
EX150 fits pipe from 3″ to 10″
EX250 fits pipe from 10″ to 48″
Meter extends only about 1/8 of pipe diameter, minimizing the potential for clogging with debris
In most applications, the installation tool not necessary due to the small tube diameter
Available in brass or 316 stainless steel
Standard valve material is brass, with stainless optional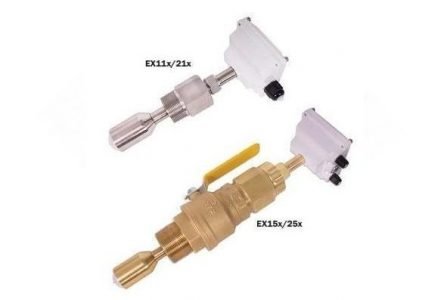 ex100 Insertion Magnetic flow meter
Flowmeter Clamp-on Ultrasonic
Flowmeter clamp-on merupakan tipe flow meter yang cara instalasinya tidak melakukan pemotongan pipa maupun melubangi pipa. Clamp-on flow meter ini menggunkan komponen sensor dari jenis ultrasonic yang sering di sebut dengan transducer ultrasonic. Prinsip Kerja dari clamp on flow meter ultrasonic ini dengan mengukur kecepatan aliran fluid, menggunakan ultrasound sehingga dengan perhitungan pada transmitter ultrasonic volume yang mengalir bisa terbaca.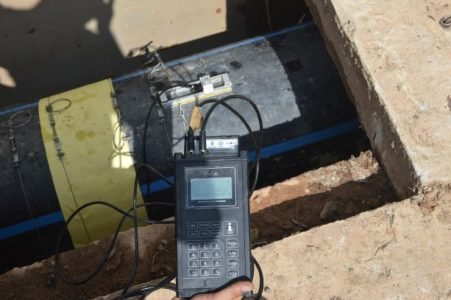 The Technology of Ultrasonic Flowmeter
Dengan menggunakan sensor ultrasonik dapat mengukur kecepatan rata rata dari aliran fluida dalam pipa. Hasil pengukuran rata-rata karena perbedaan waktu antara pengiriman signal dan penerimaan signal dengan aliran searah atau berlawanan..
Clamp on flowmeter ini cara instalasi dan cara kerjanya hampir sama dengan portable ultrasonic flow meter. Yang membedakan adalah flow meter ini menggunkan power yang fix dan digunakan untuk operasional yang lama atau produksi. Sebagaimana flowmeter untuk produksi tujuanya adalah untuk membaca dan menyimpan hasil pembacaan flow totalizer.