Kobold DPL Rotating Vane Flow Meter are used to measure and monitor liquids. Its compact design allows it to be used in equipment where space is at a premium. The large number of pulse evaluation options offered means that the system is suited for a wide range of applications.
Kobold DPL Rotating Vane Flow Meter


Kobold DPL Areas of Application
Low viscosity liquids
Non-conductive liquids
Volume dosing with external electronics
Filter aid
Beverage industry
Technical Details
Accuracy:
± 2,5% of full scale
± 5% of full scale (OEM version)
Linearity: 1% of full scale
Medium temperature: -40...+70°C
Ambient temperature: -30...+60°C
Max. operating pressure:10 bar
Protection: IP 65
Kobold DPL Materials
Housing: polypropylene
Rotating vane: polypropylene
Axle/bearing: sapphire
Vane mount: polysulfone
Gasket: NBR, FPM or EPDM
Operating Principles
The medium flows through a specially shaped flow housing and causes a vane to rotate. This rotary motion is sensed by optoelectronics in a non-contacting manner, and converted to an asymmetric frequency signal or an analogue signal. A frequency divider with symmetrical output is available as an option. The frequency is proportional to the flow velocity. The vane is sapphire-supported: this ensures a high degree of linearity and long service life.
Kobold DPL Electronics
Frequency output (OEM without CE-Sign)
Power supply: 4.5 - 12 VDC
Supply current: typ. 7 mA
Signal amplitude high: approx. power supply
Signal amplitude low: ≤0.2 V
Transmitter cut-off voltage: 3 V max.
Transmitter supply current: 8 - 12 mA
Output loss: max. 2.5 mWatt
Electrical connection: solder pins
Pulse output: NPN, Open Collect., max.10 mA
Frequency output (option frequency divider)
Power supply: 24 VDC ±20%
Supply current: 40 - 50 mA
Signal amplitude high: approx. power supply
Signal amplitude low: ≤0.2 V
Output loss: max. 2.5 mWatt
Electrical connection: plug M12x1 (option: 2 m PVC cable)
Division ratio (option): 1...1⁄128 factory set
Pulse output: PNP, open collector, max. 20 mA
Analogue output (option plug-on display)
Power supply: 24 VDC ±20%
Output: 0-20 mA or 4-20 mA, 3-wire technology
Max. load: 500 Ω
Electrical connection: plug connector M12x1 or DIN 43 650
Option: plug-on display (with plug connector DIN 43 650 only)
Compact electronics
Display: 3-position LED
Analogue output: (0)4...20 mA adjustable, max. 500 Ω
Switching outputs: 1 (2) semiconductor PNP or NPN, factory set
Contact operation: programmable N/C/ N/O contact
Setting: via 2 buttons
Power supply: 24 VDC ±20%, approx. 100 mA, 3-wire technology
Electrical connection: plug connector M12x1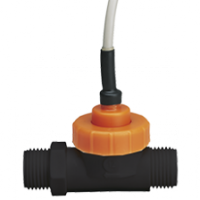 Pulse Output DPL-..F5
Measuring range: 0.025 - 0.5 ... 1 - 25 l/min water
Connection: G ½ male thread or hose connector
Material: polypropylene
pmax: 10 bar
tmax: 70°C
Linearity: ±1 %
Pulse output, frequency divider
Analogue Output DPL-..L3
Measuring range: 0.025 - 0.5 ... 1 - 25 l/min water
Connection: G ½ male thread or hose connector
Material: polypropylene
pmax: 10 bar
tmax: 70°C
Linearity: ±1 %
Analogue output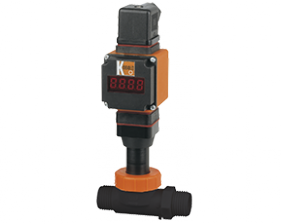 Analogue Output DPL-..L4 with AUF
Measuring range: 0.025 - 0.5 ... 1 - 25 l/min water
Connection: G ½ male thread or hose connector
Material: polypropylene
pmax: 10 bar
tmax: 70°C
Linearity: ±1 %
Analogue output, digital indicator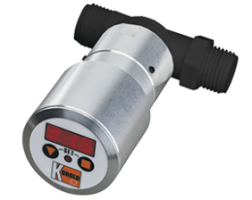 Compact Electronic DPL-..C3
Measuring range: 0.025 - 0.5 ... 1 - 25 l/min water
Connection: G ½ male thread or hose connector
Material: polypropylene
pmax: 10 bar
tmax: 70°C
Linearity: ±1 %
Analogue output, contacts NPN / PNP, digital indicator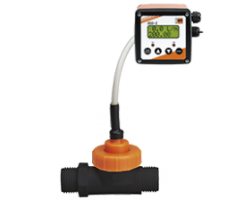 Counter DPL with ZED
Measuring range: 0.025 - 0.5 ... 1 - 25 l/min water
Connection: G ½ male thread or hose connector
Material: polypropylene
pmax: 10 bar
tmax: 70°C
Linearity: ±1 %
Analogue output, totalizer, contacts, digital indicator
Download Datasheet: Kobold DPL Rotating Vane Flowmeters