Kobold DRB Turbine Wheel Flowmeter is used for measuring and monitoring liquids. The device works according the well-known blade wheel principle. The four vane blade wheel is retained radially in a high quality sapphire bearing. The sensor is supplied ready-to-install with pipe fittings or with weld-on sleeves.
Kobold DRB Turbine Wheel Flowmeter


The blade wheel is set in motion by the flowing medium. Magnets are embedded hermetically sealed in the ends of the blade wheels. The magnets generate electrical pulses in a Halleffect sensor mounted outside the flow area. Various electronics units can be used to display and monitor the volumetric flow.
Pulse / Analogue Output DRB-..F, DRB-..L
Kobold DRB Fields of Application
cooling water monitoring
general mechanical engineering
waste water treatment
heavy goods industry
chemical industry
Materials
Housing:

brass
stainless steel 1.4581
stainless steel 1.3955 (DRB...W)

Seals:

brass version: NBR
stainless steel version: FPM

Turbine wheel: PVDF
Axle: hard metal (DRB-11... and DRB-12..) ceramic (DRB-1300..)
Bearing: ceramic (DRB-11... and DRB-12..) ceramic/PEEK (DRB-1300..)
Compact Electronic DRB-..C3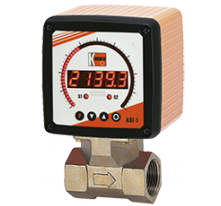 Digital Display DRB with ADI
Dosing Electronic DRB with ZED
Technical Details
Measuring accuracy: ±3% of full scale
Process temperature: max. 80°C
Ambient temperature: max. 80°C
Max. operatingpressure: PN 16 / 20°C
Max. pressure loss:

DRB-...05: 0.05 bar
DRB-...10, DRB-..15: 0.03 bar
DRB-...20: 0.04 bar
DRB-...25: 0.02 bar
DRB-...30: 0.01 bar

Protection: IP65

Electronics
Frequency output (..F300)
Power supply: 12 - 28 VDC
Power consumption: 10 mA
Pulse output: PNP, open collector, max. 25 mA
Electrical connection: plug connector M12x1
Frequency output with frequency divider
Power supply: 24 VDC ±20%
Power consumption: 15 mA
Pulse output: PNP, open collector, max. 25 mA
Electrical connection: plug connector M12x1
Division ratio: 1...1/128, factory set
Analogue output (plug-on display option)
Power supply: 24 VDC ±20%
Output: 0-20 mA or 4-20 mA, 2- or 3-wire
Max. load: 500 Ω
Electrical connection: plug connector M12x1 or DIN 43 650
Option: plug-on display (with plug connec. DIN 43 650, 2-wire)
Compact electronics
Display: 3-segment LED
Analogue output: (0)4...20 mA adjustable, max. 500 W
Switching outputs: 1 (2) semiconductor PNP or NPN, factory set
Contact operation: N/C/N/O contact programmable
Setting: with 2 buttons
Supply: 24 VDC ±20%, 3-wire technology, approx. 100 mA
Electrical connection: plug connector M12x1
ADI electronics
Display: bargraph, 5-digit digital display
Analogue output: (0)4...20 mA, 0-10 VDC 2 switching outputs: relay /changeover contact,max. 250 VAC/5A resistive load, max. 30 VDC / 5A
Setting: with 4 buttons
Power supply: 100...240VAC ±10% or18...30VAC /10...40VDC
Electrical connection: pluggable terminal block viacable gland
DRB-...Exxx (Counter electronic)
Display: LCD, 2 x 8 digit, illuminated total, part and flow quantities units selectable
Analogue output: 0(4)...20 mA adjustable
Load: max. 500 Ω
Switching output: 2 relays, max. 250V/5A/1000 VA
Settings: via 4 buttons
Functions: reset, Min./Max. memory, flow monitor, monitoring for part and total quantity, language
Power supply: 24 VDC ±20%, 3-wire
Power consumption: approx. 170 mA
Electrical connection: pluggable terminal block via cable gland
DRB-...Gxxx (Dosing electronic)
Display: LCD, 2 x 8 digit, illuminated total, part and flow quantities units selectable
Analogue output: 0(4)...20 mA adjustable
Load: max. 500 Ω
Switching output: 2 relays, max. 250V/5A/1000 VA
Settings: via 4 buttons
Functions: dosing (relay S2), start, stop, reset, fine dosing, correction amount, flow switch, total quantity, language
Power supply: 24 VDC ±20%, 3-wire
Power consumption: approx. 170 mA
Electrical connection: pluggable terminal block via able gland
Download Datasheet: Kobold DRB Turbine Wheel Flowmeter
Reference : kobold.com