Kobold DRH Rotating Vane Flow Meter are used for measuring and monitoring low viscous liquids. Series DRH flow meters are working according the well-known rotating vane principle.
Kobold DRH Rotating Vane Flow Meter


A magnet fitted in the vane and hermetically sealed from the medium transfers non-contacting the rotary motion to a Hall-effect sensor mounted in the housing. The sensor converts the rotary motion which is proportional to the flow to a frequency signal.
A series-connected electronics unit converts the signal to an analogue output, limit contacts or display. These devices can be adapted to prevailing plant conditions with the 360° rotatable screw connections.
Kobold DRH Fields of Application
Cooling water monitoring
Agricultural machinery
PCB board
Kobold DRH Specification
Measuring range: 0.2 - 8 ... 2.5 - 50 l/min water
Connection: G ⅜, G 1, ⅜" NPT, 1" NPT
Material: brass, stainless steel, POM, PVDF
pmax: 100 bar
tmax: 80 °C
Accuracy: ±2.5 % of full scale
Pulse output, analogue output, contacts,
digital / pointer indicator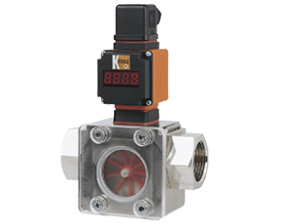 Rotating Vane Flowmeter - Analogue Output DRH with AUF
Measuring range: 0.2 - 8 ... 2.5 - 50 l/min water
Connection: G ⅜, G 1, ⅜" NPT, 1" NPT
Material: brass, stainless steel, POM, PVDF
pmax: 100 bar
tmax: 80°C
Accuracy: ±2.5 % of full scale
Analogue output, digital indicator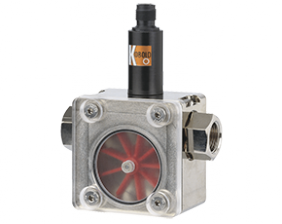 Rotating Vane Flowmeter - Pulse or Analogue Output DRH-..F, DRH-..L
Measuring range: 0.2 - 8 ... 2.5 - 50 l/min water
Connection: G ⅜, G 1, ⅜" NPT, 1" NPT
Material: brass, stainless steel, POM, PVDF
pmax: 100 bar
tmax: 80°C
Accuracy: ±2.5 % of full scale
Pulse output, analogue output
Rotating Vane Flowmeter - Compact Electronic DRH-..C3
Measuring range: 0.2 - 8 ... 2.5 - 50 l/min water
Connection: G ⅜, G 1, ⅜" NPT, 1" NPT
Material: brass, stainless steel, POM, PVDF
pmax: 100 bar
tmax: 80°C
Accuracy: ±2.5 % of full scale
Analogue output, contacts NPN / PNP, digital indicator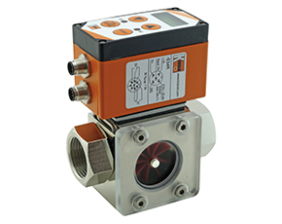 Rotating Vane Flowmeter - Counter or Dosing DRH-..E/-..G
Measuring range: 0.2 - 8 ... 2.5 - 50 l/min water
Connection: G ⅜, G 1, ⅜" NPT, 1" NPT
Material: brass, stainless steel, POM, PVDF
pmax: 100 bar
tmax: 80°C
Accuracy: ±2.5 % of full scale
Analogue output, totalizer, contacts, digital indicator
DRH-...E14R, DRH-...G14 cable connection
Wire number

DRH-...E14R

Counter electronics

DRH-...G14R

Dosing electronics

1
+24 VDC
+24 VDC
2
GND
GND
3
4-20 mA
4-20 mA
4
GND
GND
5
do not connect
Control 1*
6
Reset part quantity
Control 2*
7
Relay S1
Relay S1
8
Relay S1
Relay S1
9
Relay S2
Relay S2
10
Relay S2
Relay S2
Control 1 <-> GND: Start-Dosing
Control 2 <-> GND: Stop-Dosing
Control 1 <-> Control 2: Reset-Dosing
Technical Details
Material combinations: see order details
Max. operating pressure: see order details
Max. temperature: see order details
Measuring accuracy:
±2.5% of full scale
±5% of full scale (DRH-...F300)
Electrical connection: plug connector DIN 43 650, plug connector M12x1, cable
Pressure loss: max. 1 bar at max. range
Protection: IP 65
Electronics
1. Frequency output (...F300)
Power supply: 12-28 VDC
Power consumption: 10 mA
Pulse output: PNP, open collector max. 25 mA
Electrical connection: plug connector M12x1
2. Frequency output with frequency divider
Power supply: 24 VDC ±20%
Power consumption: 15 mA
Pulse output: PNP, open collector, max. 25 mA
Electrical connection: plug connector M12x1
Division ratio: 1... 1/128, factory set
3. Analogue output (Option plug-on display
Power supply: 24 VDC ±20%
Output: 0-20 mA or 4-20 mA,
2-wire or 3-wire
Max. load: 500 Ω
Electrical connection: plug connector M12x1 or DIN 43650
Option: plug-on display (with plug connector DIN 43650 and output 4-20 mA only), 2-wire
4. Compact electronics
Display: 3-segment LED
Analogue output: (0)4...20 mA adjustable, max. 500 W
Switching outputs: 1 (2) semiconductor PNP or NPN factory set
Contact operation: N/C / N/O contact frequency programmable
Setting: with 2 buttons
Power supply: 24 VDC ±20%, 3-wire technology approx. 100 mA
Electrical connection: plug connector M12x1
DRH-...Exxx (Counter electronics)
Display: LCD, 2 x 8 digit, illuminated total, part and flow quantities, units selectable
Quantity meter: 8-digit
Analogue output: (0)4...20 mA adjustable
Load: max. 500 Ω
Switching output: 2 relays, max. 30 VAC/DC /2A/60 VA
Settings: via 4 buttons
Functions: reset, MIN/MAX memory, flow monitor, monitoring for part and total quantity, language
Power supply: 24 VDC ±20%, 3-wire
Power consumption: approx. 150 mA
Electrical connections: cable connection or M 12 plug
More technical details see data sheet ZED
DRH-...Gxxx (Dosing electronics)
Display: LCD, 2 x 8 digit, illuminated dosing-, total-, and flow quantity, units selectable
Quantity meter: 8-digit
Dosage: 5-digit
Analogue output: (0)4...20 mA adjustable
Load: max. 500 Ω
Switching output: 2 relays, max. 30 VAC/DC /2A/60 VA
Settings: via 4 buttons
Functions: dosing (relay S2), start, stop, reset, fine dosing, correction amount, flow switch, total quantity, language
Power supply: 24 VDC ±20%, 3-wire
Power consumption: approx. 150 mA
Electrical connection: cable connection or M12 plug
More technical details see data sheet ZED
Download Datasheet: Kobold DRH Rotating Vane Flowmeters
Reference : kobold.com