Clamp-on Flow Meter WUF 100 CF untuk PLTU merupakan flow meter yang cara kerjanya mengukur atau mengitung kecepatan aliran suatu fluida dengan menggunakan ultra sound untuk akumulasi flow rate.
Pengertian Ultrasonic Flow Meter
Dengan diketahuinya Kecepatan aliran maka dapat di hitung flow rate dengan mengetahui luasan penanmpang suatu jalur aliran. Pengertian Ultrasonic Flow Meter banyak diketahui sebagai flow meter yang sistem instalasinya dengan menggunakan sistem non contact dimana sensor atau transducer tidak contact langsung dengan fluida. Karena cara instalasinya non contact atau clamp on maka flow meter ultrasonic dikenal sebagai flow meter portable.
Begitu juga untuk sistem instalasi insertion flowmeter ultrasonic cara pemasangnya adalah dengan melubangi pipa yang kemudian dipasang fitting dan sensor ultrasonic atau transducer dimasukan dalam fitting dan pipa yang telah di lubangi. Dari sensor tersebut dengan menggunakan cable di teruskan ke dalam ultrasonic transmitter guna menghitung velocity maupun flow rate fluida dalam pipa.
Prinsip Kerja Ultrasonic Flow Meter
Konstruksi dari flow meter jenis ini dapat dilakukan dengan menggunakan transduser upstream dan downstream, pipa sensor dan reflektor. Prinsip kerja dari ultrasonik flow meter adalah, menggunakan gelombang suara untuk menyelesaikan kecepatan cairan di dalam pipa. Ada dua kondisi di dalam pipa seperti tidak mengalir dan mengalir. Pada kondisi pertama, frekuensi gelombang ultrasonik ditransmisikan ke dalam pipa & indikasinya dari fluida serupa. Pada kondisi kedua, frekuensi gelombang yang dipantulkan berbeda karena Efek Doppler.
Setiap kali cairan mengalir dalam pipa dengan cepat, maka pergeseran frekuensi dapat ditingkatkan secara linier. Pemancar memproses sinyal dari gelombang & pantulannya menentukan laju aliran. Pengukur waktu transit mengirim & menerima gelombang ultrasonik di kedua arah di dalam pipa. Pada kondisi tanpa aliran, waktu yang dibutuhkan untuk mengalir di antara hulu & hilir di antara transduser adalah sama.
Di bawah dua kondisi mengalir ini, gelombang di hulu akan mengalir dengan kecepatan lebih kecil dari gelombang hilir. Saat cairan mengalir lebih cepat, perbedaan antara waktu naik & turun meningkat. Waktu hulu & hilir diproses oleh pemancar untuk menentukan laju aliran.
Jenis Instalasi Ultrasonic Flow Meter
Portable Ultrasonic flow meter
Clamp on fix ultrasonic flow meter
In Line Ultrasonic Flow Meter
Insertion Ultrasonic Flow Meter
Open Channel Ultrasonic Flow Meter
Dari jenis flow meter ultrasonic berdasarkan cara instalasinya yang paling banyak di sukai adalah jenis installasi clamp on karena sangat cocok di aplikasikan pada pipa yang sangat besar ataupun pada pipa yang mereka tidak ingin terganggu proses produksinya.
Seri flowmasonic WUF100 CF clamp-on ultrasonik flow meter adalah flow meter ultrasonik yang mengadopsi state-of-the-art, teknologi papan tunggal yang menampilkan presisi tinggi, keandalan tinggi, kinerja tinggi, harga rendah, dll yang menjadikannya aliran ultrasonik meter pilihan oleh banyak pelanggan. dari seluruh dunia.
Pengukur aliran ultrasonik WUF 100 CF Flowmasonic Clamp-on tersedia di pasaran dalam berbagai ukuran, desain, dan bentuk. Ini sangat dihargai karena umur fungsionalnya yang panjang.
Fitur Clamp-on Flow Meter WUF 100 CF
Non-invasive clamp-on Technology
Easy to install
No pressure drop, moving parts, leakage, or corrosion
No pipe cutting or process interruption
Measurement independent of fluid properties
Wide Bi-directional flow range
The sensors being a clamp-on type, there's no pressure loss. The sensors are easily mounted on the surface of the pipe without interrupting the flow for installation or maintenance.
Advanced intelligent display, computation, and printing(data logger) to suit the user's diversified requirement. The flow is displayed in all pertinent engineering units. It runs out of regular AC power (110V/220V), built-in battery or DC power.
Using the most advanced direct-time-measuring method, the meter offers a signal resolution of 0.2ns. In addition, advanced data processing functions ensure the Flowmasonic series WUF100 CF of high linearity.
Signal outputs including current signal, frequency signal, serial data, switch outputs(1 OCT and 1 relay output). All the outputs displayed on the unit can be transmitted to a PC via RS-232/485 for further processing or storage.
The Flowmasonic WUF 100CF is designed to measure the fluid velocity of liquid within a closed conduit. The transducers are a non-contacting, clamp-on type, which will provide benefits of non-fouling operation and easy installation.
[caption id="attachment_30611" align="aligncenter" width="386"]
Water flow meter Ultrasonic flowmasonic clamp on WUF-100CF[/caption]
Clamp-on Flow Meter WUF 100 CF Spesifikasi
Accuracy
: ≤1%
Velocity Range
: 0~±10m/s, Bi-directional measurement
Pipe Size
: DN32~DN6000mm
Temperature
: -30°C~160°C
Type of Liquid
: Single liquid than can transmit ultrasound, such as water, seawater, sewage, oil, alcohol, etc.
Pipe Material
: Steel, stainless steel, cast iron, copper, PVC, Aluminum, glass steel, etc. A liner is allowed.
Signal Output

: 1 way 4-20mA output1 way OCT pulse output

1-way Relay output

Signal output
: 3 way 4-20mA input, achieve to heat measurement by connecting PT100 platinum resistor.
Interface
: RS485, support MODBUS
Data Storage
: SD card regularly store the pre-set result(optional)
Power Supply
: DC8~36V or AC85~264V
Diagram Instalasi
unit utama cocok untuk pemasangan di dinding, digunakan di sebagian besar situasi tanpa persyaratan khusus. Transduser penjepit opsional, rentang pengukuran dari DN32-DN6000mm
Upstream and downstream distance
[caption id="attachment_5724" align="aligncenter" width="475"]
posisi dan jarak instalasi transducer ultrasonic flow meter[/caption]
Working Principle of Transit-Time Technology
Untuk pengukuran, dua pulsa ultrasonik dikirim melalui media, satu dalam arah aliran, dan yang lainnya melawannya. Transduser secara alternatif bekerja sebagai pemancar dan penerima. Waktu transit sinyal ultrasonik yang merambat dalam arah aliran lebih pendek daripada waktu transit sinyal yang merambat melawan arah aliran.
Perbedaan waktu transit diukur dan memungkinkan penentuan kecepatan aliran rata-rata pada jalur propagasi sinyal ultrasonik. Koreksi profil dilakukan untuk mendapatkan kecepatan aliran rata-rata pada penampang pipa yang sebanding dengan volume aliran.
Pengukur aliran penjepit waktu transit Seri WUF100 Flowmasonic menggunakan dua transduser yang berfungsi sebagai pemancar dan penerima ultrasonik. Transduser dijepit di bagian luar pipa tertutup pada jarak tertentu satu sama lain.
Transduser pengukur aliran Flowmasonic WUF100 CF dapat dipasang dalam metode-V di mana suara melintasi pipa dua kali, atau metode-W di mana suara melintasi pipa empat kali, atau dalam metode-Z di mana transduser dipasang pada sisi yang berlawanan pipa dan suara melintasi pipa sekali.
[caption id="attachment_5773" align="aligncenter" width="552"]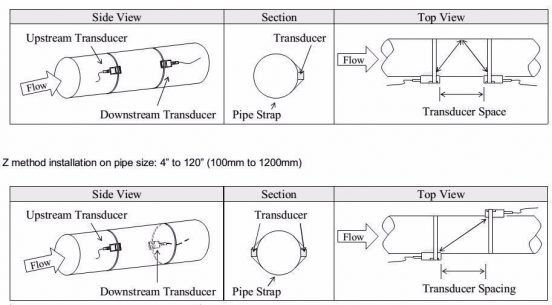 Jenis Instalasi Transducer[/caption]
Pemilihan metode pemasangan ini tergantung pada karakteristik pipa dan cairan. Pengukur aliran WUF100 seri Flowmasonic beroperasi dengan secara bergantian mentransmisikan dan menerima ledakan energi suara termodulasi frekuensi antara dua transduser dan mengukur waktu transit yang diperlukan suara untuk bergerak di antara dua transduser. Perbedaan waktu transit yang diukur secara langsung dan tepat terkait dengan kecepatan cairan dalam pipa.
Non-Invasive, Clamp-on Transducers
Karena ultrasound merambat dalam padatan, transduser dapat dipasang ke pipa. Oleh karena itu, pengukurannya tidak invasif, dan tidak diperlukan pemotongan pipa untuk pemasangan transduser.
Dengan hanya 3 set transduser, pipa mulai dari 15mm hingga 6000mm dapat ditutup, biaya kepemilikan tidak meningkat seiring dengan peningkatan ukuran pipa, yang merupakan faktor penghematan biaya yang menentukan dibandingkan dengan pengukur aliran tradisional.
Baca Juga : Clamp On Ultrasonic Flow Meter Flowmasonic WUF 620 CF Series